PDC 's new, robust, multi-use shrink labeler processes up to 400 difficult-to-label containers per minute.
The R-300C-TSCB shrink sleeve labeler handles a broad range of challenging package configurations: containers with no taper, thermoformed packs with "flashing", twin packs, and rigid packages. The machine's applicating head can be either vertical, or angled to allow for optimal application on difficult packages. The system accommodates package capacities of 2 oz. to ½ gallon.
The R-300C-TSCB handling system orients the products in dual counter-rotating timing screws, and hands them off to servo-controlled gripper belts. This results in the best possible presentation of the packages for sleeving. The servo-controlled cleated belts can decelerate the product during application, then re-accelerate back to conveyor speed for release to the shrink tunnel.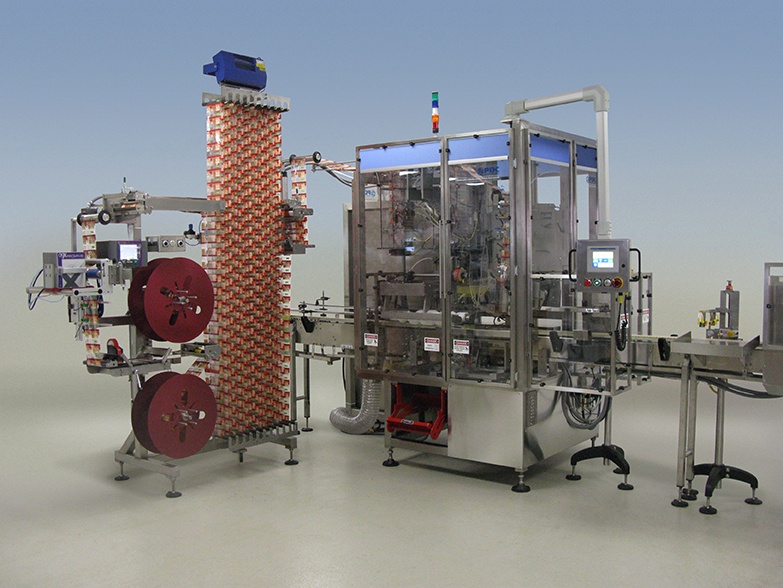 The R-300C-TSCB has a stainless steel frame, upstream photo-eyes, material monitoring sensors and an Allen Bradley CompactLogix PLC platform. It is ideal for thin films (1.25 to 1.5 mils, 30 to 40 micron), and is compatible with all mono-axial, sustainable and freezer grade shrink sleeve films.
Like all PDC machinery, the R-300C-TSCB labeler is engineered for 24/7 operation, and is made in the USA.