Read more about our KSA 70-712 steam shrink tunnel, a compact, cost-effective steam tunnel incorporating the advanced features of our larger steam tunnels for the application of heat shrinkable sleeve labels and tamper evident bands. The KSA 70-712 also has three pairs of fully adjustable pipe nozzles with numerical scales for easily repeatable settings.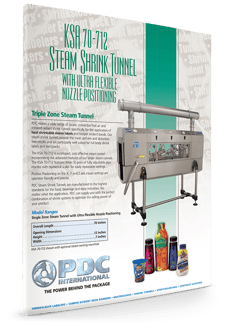 Highlights include:
Specifications
Standard features
Optional features
Specialized features for labeling empty bottles
See the power behind the package for yourself!