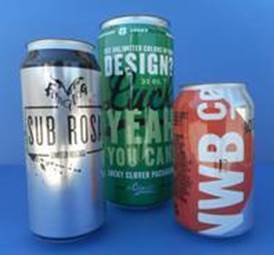 For years, glass bottles were thought to be the bastion of quality and superiority when it came to beer packaging. For breweries, the idea of using aluminum cans for the distribution of beer was seen as the cheaper, lower quality alternative. Likewise, for consumers, aluminum cans represented unworthiness - one that would allegedly leave a dreadful metallic taste in the imbiber's mouth. Today, these long standing myths have been slowly debunked as the beer packaging industry has undergone an incredible shift towards the metal container. The perceptions of bottle superiority are becoming transparent, as more and more breweries, both global and craft sized, have reached for the can as a trendy packaging material of choice. Cans are lighter than glass bottles making them great for shipping to distributors or carrying to a BBQ. Additionally, cans are recycled more and due to their light-blocking abilities, the product stays fresher for longer!
While the quality of packaging materials as well as the liquid product is crucial for consumer satisfaction, the design of the packaging of beer cans is an additional major factor in convincing imbibers to say, "Bottoms up!" From a supplier standpoint, evidence suggests that the proper design of a beer can is not only capable of boosting sales but also slashing productions costs as well. For breweries looking to can and ship their product, careful consideration must be used when selecting their labeling method.
The right decorating method ensures a brewery that they are getting the best profit margin on their labels as possible. In contrast to preprinting empty cans, which often requires large minimum order quantities, applying labels to unprinted cans gives greater flexibility and offers cost savings. Furthermore, investing time and resources into the design of a beer can will ensure a strong representation of the company's brand awareness and overall marketing persona. The right label can be the difference between your beer making a great first impression on the buyer or simply blending in amongst the competitors on store shelves.
Choosing the Beer Can Label

Unfortunately, the path to designing labels is not completely smooth. Breweries may face a few hiccups during the design phase of their labels specifically during the selection of the labeling product. Lately there have been some new developments within the labeling industry to help with this labeling decision process. One example of such a product is the adoption of shrink sleeve labels for beer cans, which conform to a container's every curve. With the flexibility that shrink sleeve labels provide, designers are now able to decorate the can in different shapes – super high quality graphics from top to bottom and 360 degrees around – the design options are practically limitless!
What are Shrink Sleeve Labels?

Shrink sleeve labels allow beer package designers to make their cans the life of the party on the shelves. These labels bring an aesthetic appeal and functional versatility to beer cans where other labeling methods fall flat. These highly attractive labels are printed, using multiple printing technologies, on flexible shrink film, then formed into tubes. They come flattened, either in roll form for machine application, or pre-cut in stacks for hand application. Once heat is applied through a heat shrink tunnel, the film shrinks, reduces in size, and conforms tightly to the shape of the can.
Through the use of shrink sleeve labels, designers can now create distinct brand identities, while maximizing the space for vibrant graphics, text, ingredients lists, UPC codes, and nutritional information.

Design Considerations
In terms of the design itself, it is imperative to take into consideration what the most important aspects of your brand and your product are and incorporate them accordingly. If your brand heavily focuses on the ingredient-aspect be sure to highlight that on the can! Or if your beer has a great story, make sure your label makes it known loud and clear. This can all be accomplished with the aid of shrink sleeve labels. Keep in mind that the development of the graphics for your label are very important and you should start working on them long before you are ready to actually can and ship your product out. In order to get the best use of the label space and the best result in terms of the graphic quality, you will want to have your designer and your manufacturer work together from the beginning.
When you are looking to select your label or equipment manufacturer, interview them properly before placing your product in their hands. Be sure that they have created labels for beer cans previously, have a true understanding of your industry, and have a strong relationship with other suppliers. Take careful note of their turnaround times are and quiz them about their minimum runs. Any supplier worthy of your business will be able to answer questions like this with ease.

Cheers!