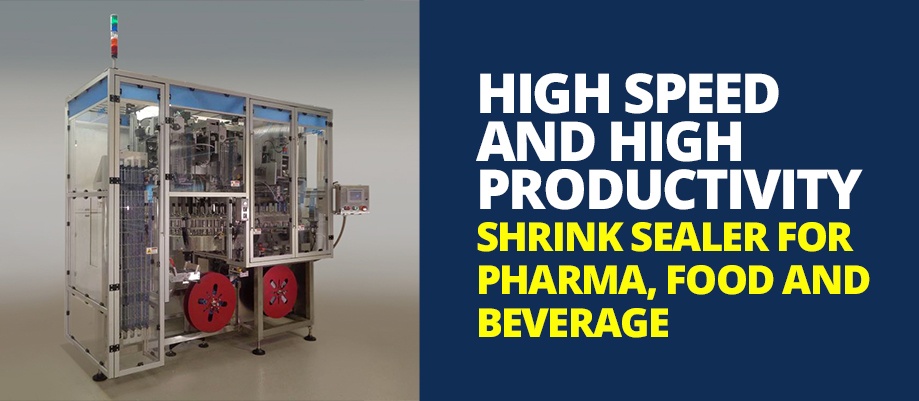 If you're looking for the continuous application of tamper evident seals and shrink sleeve neck labels at up to 500 cpm, PDC's new 90CX-ER shrink sealer is the shrinksealing machine for you.
Engineered for rugged "24/7" performance, the 90CX-ER features an enhanced, ultra-heavy-duty central drive system that's vibration-free at high rpms. Bottle sizes range from 3 ml pharmavials to 1.75 L glass liquor bottles.
90CX-ER Shrinksealers apply sleeves in gauges as thin as 40 micron, (1.5 mil) with sleeve diameters from .375 to 2.0 inches (10 to 50 mm); and sleeve heights from .625 to 4 inches.
PDC's "Splice-on-the-Fly" changeover feature allows a second film reel to be staged and spliced while operation continues at normal speed, eliminating the time lost for roll splicing. When a reel is spent, an end-of-reel sensor automatically clamps the material end and begins consuming from the accumulation festoon. Once the splice is complete, the festoon refills by returning to its original position, awaiting the next roll change.
Like all PDC systems, the 90CX-ER shrink sealing machine has a robust blade assembly in place of the fragile spinning knives of competitive machines. This advanced, proprietary assembly allows blades to be re-sharpened three times or more, and reversed, so one set provides exceptionally long service life and cost savings. In some cases, blades can last tens of millions of cycles between sharpenings. PDC blades last months, not days!
The R-300C-TSCB has a stainless steel frame, upstream photo-eyes, material monitoring sensors and an Allen Bradley CompactLogix PLC platform. It is ideal for thin films (1.25 to 1.5 mils, 30 to 40 micron), and is compatible with all mono-axial, sustainable and freezer grade shrink sleeve films.
Like all PDC machinery, the R-300C-TSCB labeler is engineered for 24/7 operation, and is made in the USA.