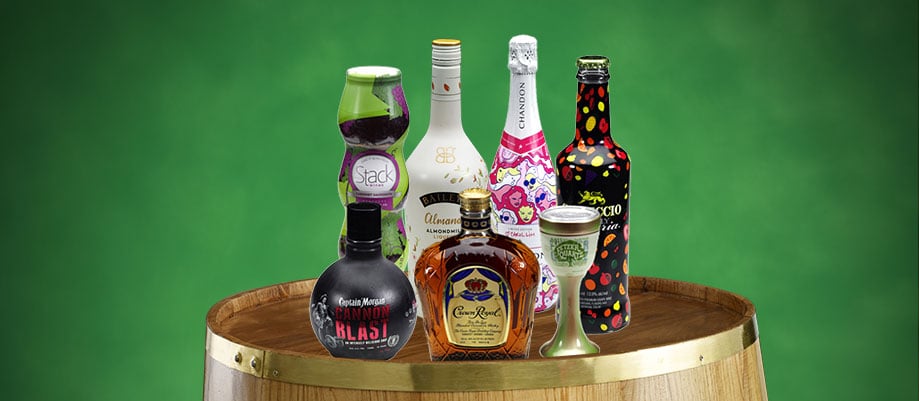 In recent years, advancing technology in shrink sleeve labeling has transformed the way companies in the spirits and beverage industries are able to package and market their products. Shrink sleeve labels allow for better graphics, convenient packaging, as well as being perfectly suited for bottled and canned products. Outlined below are a few ways these shrink sleeve labels have revolutionized the packaging of spirits and other beverages.
Full-Body Shrink Sleeve Labeling
In the wine and spirits industries, full-body shrink sleeve labeling was once limited to certain special wines, champagnes, and seasonal beverages, largely due to its expense. Now, though, full-body labeling is seen as an important marketing tool and is used more widely on products at different price-points, even for less-expensive spirits such as vodka. Full-body labeling offers a number of advantages, most notably the extra label "real estate' it provides to market your beverage to make it more appealing. Now that it is more widely used, many spirit and beverage businesses are cashing in on those benefits and creating beautiful packages that separate them from their competitors.
Tamper-Evident Seals
Tamper-evident seals are now frequently used in the spirits/beverage industry, replacing tax stamps, which are no longer required. These heat shrinkable seals provide customers with an extra level of confidence in the product they are purchasing and thus serve as a great marketing tactic in their own right. Often printed with a neck label or logo, along with the perforations, the neck band seal provides decoration, product integrity and keeps the closure area clean and dust free.
Labeling Beer Cans
To avoid the large minimum quantities required to print aluminum cans, shrink labeling is now a popular alternative for craft breweries. Smaller quantities of cans can be purchased with shrink labels from a container "decorator", or a small labeling system with shrink tunnel can be installed in the microbrewery itself.
Multipacking
Shrink sleeving allows you to pack multiple products into a single package - seen in the spirit/beverage industry with stack packages of single-serve wine – such as Stack Tek - while still displaying great graphics and an appealing design. Multipacking helps businesses add more diversity to their product line and set themselves apart from the competition by selling product bundles in addition to individual products.
Single-Serve Packaging
Single-serve packaging is becoming increasingly popular in the spirits industry, especially among wines where brands such as Zipz Wines are taking off due to the easy-portable convenience that they offer. These packages, in which the container doubles as an attractive "cup", are perfect for sporting events or picnics. At the heart of single-serve spirits, though, is clever, attention-getting graphics and the ability to multipack.
How to Leverage Advances in Shrink Sleeve Labels
All of the uses of shrink sleeve labels outlined above have been made possible due to a variety of advancements in films, labeling machinery and shrink tunnels such as the PDC, KSA- 70, and KST 140F Multi-zone Steam shrink tunnels. Thanks to these advancements, companies in the beer, wine and spirits industries are changing the way they package their products, allowing for improved marketing and more effective packaging.
If you would like to learn more about how you can take advantage of shrink sleeve labels and neck bands through state-of-the-art shrink sleeving machinery and shrink tunnels, we invite you to contact us today.