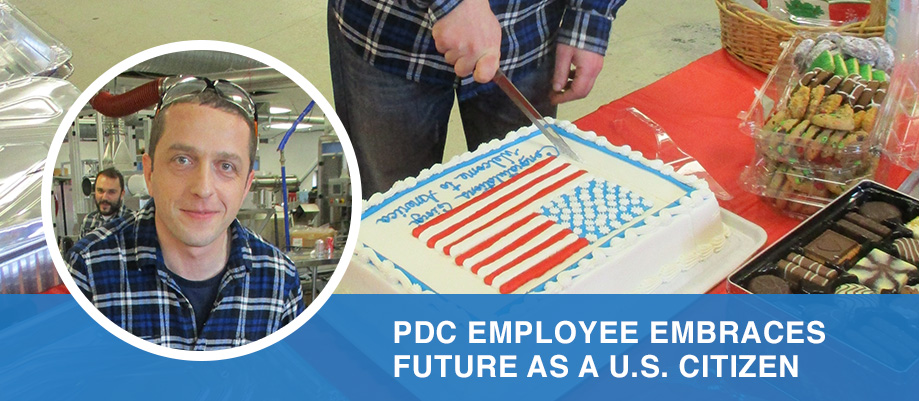 PDC employee Giorgi Labartkava's main goal since coming to the United States has been to provide a better life for his wife and son. Now, he's one step closer. Labartkava, who emigrated to the U.S. from Georgia in Eastern Europe, recently became a U.S. citizen. His son and wife still live in Georgia and Giorgi is hoping his citizenship will facilitate the paperwork to bring them to the U.S.

Having grown up in Georgia when it was still part of the Soviet Union, Giorgi was not always focused on coming to the U.S. "After getting my degrees in applied mathematics and computer science, I was busy working, first for a bank and then for a furniture company,'' says Giorgi. "I applied for a visa, but it really wasn't until I got it that I truly realized the possibilities for me and my son with this move."
When he arrived in 2014, a cousin in New Jersey was helpful in setting him up with his first job in Norwalk CT. (for which he is forever thankful to her). Since coming to PDC in 2018, he has worked his way up from a position as a shipping coordinator to one in accounts payable. He credits the company with being supportive of his goals.
"PDC has been very helpful in every way, from encouraging me to use my skills, to giving me time off to go back and visit my son and family," says Giorgi. "But even more, I love the people here. They are a great team of professionals who are very supportive to each other even outside the work.
For Giorgi, seeing the current situation in Ukraine reminds him how lucky he is to be a U.S. citizen. He was living in Georgia in 2008 when Russia invaded the country.
"PDC is not just another company for me because I especially feel a connection to the founder, Anatole Konstantin and his family," says Giorgi. "Anatole grew up in the Soviet Union like me, He understands where I come from."
In fact, at my first job in the U.S. before I even knew of PDC, I came across a book entitled 'A Red Boyhood', Anatole's memoir. The book made me cry several times when I read it, but also motivated me. I read about someone who went through a lot of pain and hunger, and brutally lost everything, including family members. Yet, he survived, came to this country, built his life and a company. Later, I met the author personally at Norwalk Community College. He turned out to be the founder of PDC."
As he works to bring his family over to the U.S., Giorgi says he's preparing his son by giving him English classes. According to Giorgi, "his English is definitely better than mine at his age!" Hopefully, soon, his son will be able to join Giorgi and really show off those English skills.