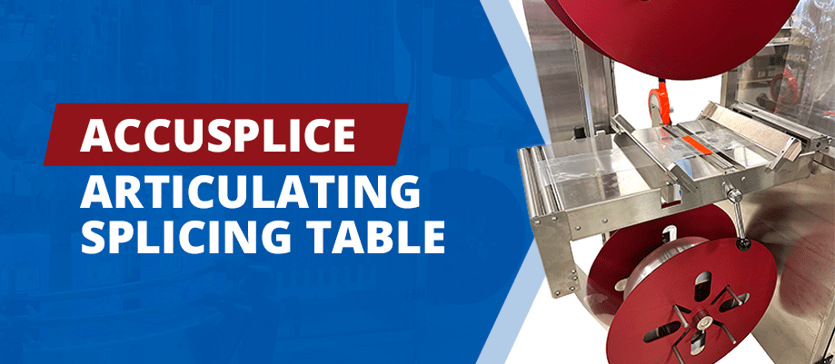 What is one of the causes of downtime in shrink sleeve labeling operations? The time-consuming splicing of one roll of sleeves into another during roll changes. And depending on the sleeve height and application speed, roll changes can be as frequent as every 15 minutes or so. If the splice isn't precise and clean, it can jam in the labeling machine and cause costly downtime to clear the jam, rethread the machine and perform a second splice. PDC's proprietary AccuSplice Splicing Table avoids all this and provides more uptime and productivity.
AccuSplice Articulating Splicing Table
PDC's proprietary articulating splicing table is designed to provide quick and precise splices that will run through sleeve applicators without jamming. Unlike splices of single-thickness flat stock, sleeves must be precisely spliced both front and back, with edges perfectly aligned so the material can then pass over forming devices such as mandrels. The two-sided splices must also not adhere to one another on the inner surfaces of the sleeve or it too will cause a jam.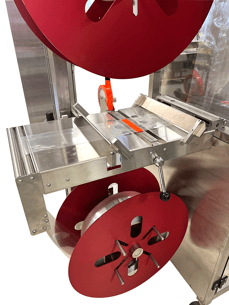 The AccuSplice splicing table includes:
Dual magnetized hold down bars
A Tape Dispenser
Emerging Guide Plates
Stainless Steel Construction
The table includes dual magnetized hold down bars that allow an accurate cut to be made on the tails of both the old and new rolls of labels; a tape dispenser for convenience and accuracy of tape placement; emerging guide plates that move the slit tails aside for precise tape placement; and stainless steel construction. With this advanced technology, users can reduce downtime during roll changes or related to jams caused by poor quality splices while maintaining high levels of productivity.

Splice On-The-Fly Unwind Accumulators
PDC also offers Zero-Downtime Splice on the Fly Accumulators, either on separate stands or within the machine frame. These accumulators provide a buffer of material allowing time for the operator to make a splice while the machine is still running. These, combined with the AccuSplice Splicing Table are a winning combination to help you reduce downtime and increase productivity.
PDC stands behind this technology with its industry-leading customer service team providing fast response times should any issues arise during installation or operation of PDC equipment. So if you're ready to cut costs and speed up production time, give our team a call!
About PDC International
PDC has been delivering shrink sleeve labeling and tamper evident banding machinery, and shrink tunnels to customers for over 50 years. Our expertise includes a wide range of industries with customers from the food, beverage, pharmaceutical, dairy, wine and spirits, personal care and industrial/household industries. We are vertically integrated and manage every aspect of our in-house manufacturing processes. Our responsiveness and high quality standards help you maintain a competitive advantage, with successful new-product rollouts and the ability to produce high volumes on schedule.