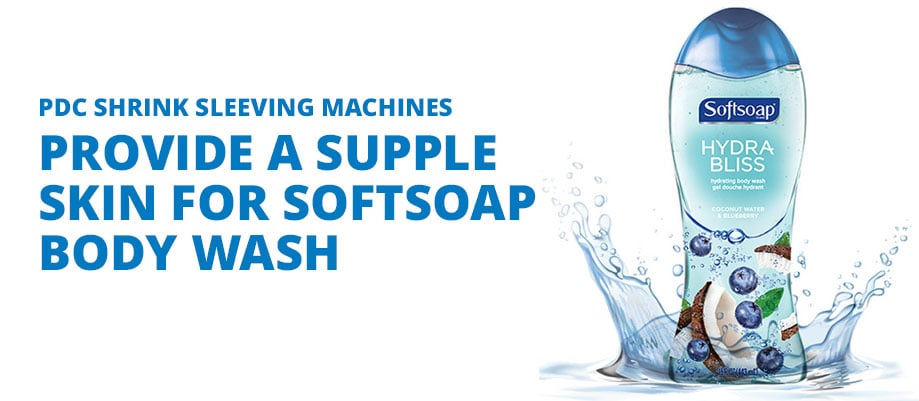 Clean, soft skin doesn't always come easily. It takes diligence and attention. Similarly, affixing the "skin," or shrink sleeve label onto Colgate's heart-shaped Softsoap bottle also presented multiple and complex challenges. These included unusually shaped bottles that needed to be labeled empty, at high speeds. Every step of the way PDC's expertise and innovative labeling machinery helped to create a beautiful supple skin for Softsoap bottles.
Precise Product Handling for Unusual Containers
Colgate's oval PET bottle needed to be labeled empty and at high speeds of over 250 bottles a minute. However, the empty bottles are light and top-heavy, so any mishandling could knock them over, causing a jam in the machinery and stopping the line. A PDC R-Series labeler was the perfect choice to apply the shrink sleeve labels. It features a dual, counter-rotating timing screw drive that feeds into a pair of servo-controlled, cleated belts. These belts guide the bottles at their base near the conveyor, controlling them throughout the label application process.
Maintaining Graphic Orientation
The Softsoap graphics on the shrink sleeves required very precise orientation on the oval-shaped bottles. To ensure accurate side-to-side positioning of the label graphics, PDC used our proprietary, oval-shaped mandrel design to match the container profile.
Shrink Tunnels Keep Bottle Contours Intact
Shrinking PET labels on empty PET bottles also posed a challenge on the Colgate bottles. PDC's thermostatically controlled, KST 80 Dual-Zone Steam Tunnel was chosen to make sure the label conforms to the bottle's contours without deforming. The KST 80 provides very precise directing of the steam at exactly the right places, and at exactly the right time, ensuring beautiful end results.
Watch our video to learn more about PDC's work with Colgate to create beautiful Softsoap packaging.