PDC will be attending the upcoming 2016 Pack Expo and Pharma EXPO in Chicago November 6-8. We'll be located on the North Upper Hall, booth - N-5136 and will be showcasing several of our shrink labeling machines, including our newest model, the R-100 Evolution Shrink Labeler.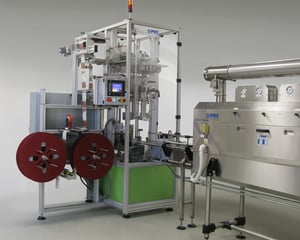 NEW Model R-100 Evolution Shrink Labeler
At the show, we will be introducing our new model R-100 Evolution Shrink Labeler, an economical and compact system designed for continuous shrink labeling and twin packing. The R-100 is a line extension of PDC's highly popular R Series of shrink sleeve labelers. What's different is its popular, moderate speed: 30-100 cpm. The R-100 is perfect for specialty food, beverage, vitamin companies and contract packers looking for a robust, cost-effective system for shrink sleeve labeling and twin-packing. Read More.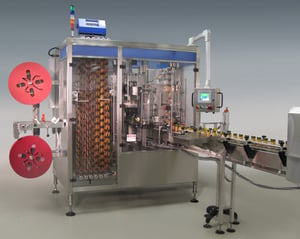 PDC R-350 Evolution Shrink Sleeve Labeler
The PDC R-350 Evolution Shrink Sleeve Labeler is a robust shrink labeler that is ideal for challenging packages. This machine handles tapered and reverse-tapered containers, ovals, rounds, twin packs, and rigid packages of all types with capacities of 2 oz. to 64. oz. An integral label accumulator optimizes productivity by allowing roll changes at production speed – no downtime required. Read More.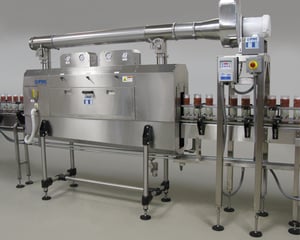 KSA-70 Triple Zone Steam Tunnel
The KSA-70 Triple Zone Steam Tunnel is a robust shrink tunnel that incorporates many of the engineering features which have distinguished PDC's larger capacity tunnels and labeling systems. It is ideal for applications that demand precise label registration and shape conformance. It is also an excellent option for packages involving contents that are flammable or under pressure. Read More.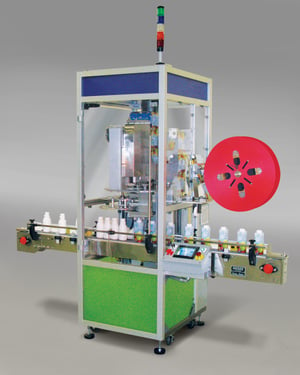 60 Series Evolution Shrinksealer
The 60 Series Evolution Shrinksealer is a versatile packaging workhorse that applies both full-height bodysleeves and tamper evident banding. The 60 Series are dual-use, mid-speed packaging systems. Used for Shrink sleeve labeling, they apply full height bodysleeve labels with primary graphics, and are compatible with jars, bottles and products of all types. The sleeve label can extend up over the cap, with a horizontal perforation for consumer tamper evidence. Read More.
Come by for a demonstation of these machines, or arrange for a demo at the PDC research lab. The R&D lab has extensive testing capabilities, and the ability to evaluate system performance using various films and production speeds.
Please contact Gary Tantimonico at 203-853-1516 or sales@pdc-corp.com if you are interested in setting up a meeting at the show.