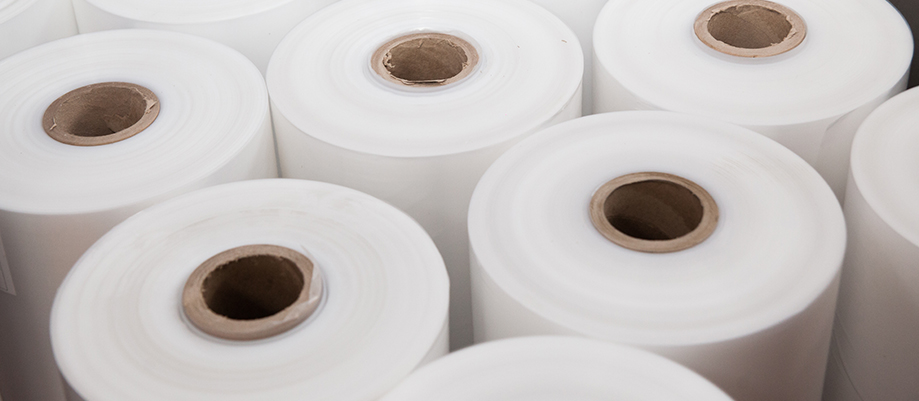 In shrink labeling, there are several types of film substrates to choose from and various grades of film within each type. Knowing which to leverage and when will help save time and money.

Labels printed on incorrect film will not perform well, and they are likely to cause substantial downtime on the production line, and have less than desirable shrink appearance. This can result in major additional costs, rework, and frustration.
It's important to select the film that is most cost effective yet has all the required characteristics to make your package exceptional. Below, we take a look at the four major types of film substrates and the kinds of applications that each are best suited to.
Types Of Shrink Labeling Films
PVC (Polyvinylchloride)
As the original marketable film, PVC is the dominant film in the packaging industry (estimated to be used around 70% of the time). PVC works well for both tamper evident banding and shrink labeling applications. Its performance characteristics are well understood, and it is generally less expensive than other films.
However, PVC is not accepted by all consumer products companies due to environmental and sustainability standards. Therefore, it should not be considered recyclable.
(PET/PETG) Polyethylene terephthalate (glycol)
PET/PETG film is increasing in popularity. That trend is due to several factors including its high level of clarity and the potential for down gauging film, thus reducing cost and the ability to increase the number of sleeves on a roll.
Applications for which PET/PETG is well suited include large diameter bottles with small diameter necks because PETG has enough shrink memory to provide the required coverage.
Furthermore, PET/PETG is perceived as environmentally friendly in comparison to other films as it is more compatible with PET recycling systems.
OPS (Oriented Polystyrene)
OPS film is better for softer, squeezable containers. In addition to softer applications, OPS is useful for full sleeve applications on bottles with little or no radius at the bottom for the label to wrap under, since the label has minimal vertical shrink and does not pull up.
It is important to note that this film requires lower storage temperature and has a low shrink force. It requires a higher temperature (more energy) to shrink.
Environmentally, OPS film has greater acceptance in Japan and Europe as it is perceived as a more eco-friendly option.
PLA (Polylactic acid)
PLA is not as widely used as other films. It is a corn-based film, not petroleum based, due to its composition. It is ASTM Certified Compostable (but only in industrial composting facilities) and is considered the most environmentally friendly film. It has not been adapted as widely as first expected.
How to Ensure You're Using the Best Film
The four types of film used for shrink sleeve packaging each have unique performance characteristics as well as advantages and disadvantages. Knowing these allow you to make the right choice for your product and budget, with no worries or surprises. Selecting the correct film type and grade are critical for a successful project. Only then can sleeve dimensions and sizing (layflat width and height) be correctly established. The PDC Shrink Lab is available to test your products, make prototypes and determine correct label specifications.
At PDC, we have mastered both the science and the art of creating an exceptional package. Our "empirical" test processes are designed to avoid any oversights and help clients to select the correct film from the start. Contact PDC today to help you develop new packages and build your brand through shrink sleeve labeling technology.
Read More About Shrink Film and Shrink Labeling Technology in Our Free Ebook: