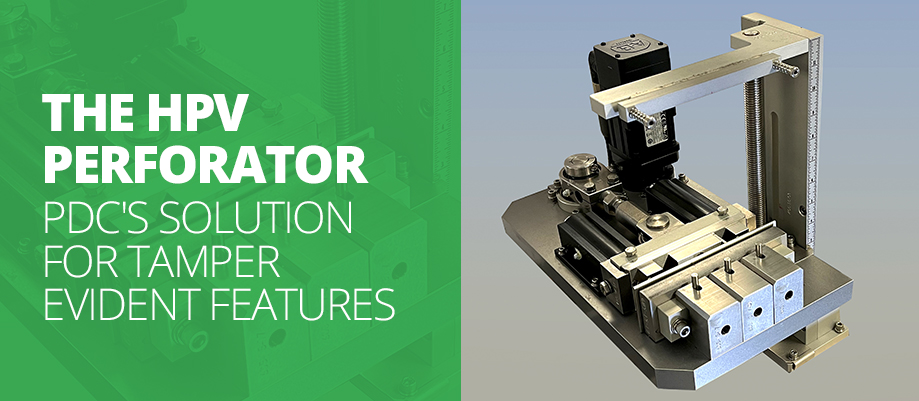 The words "horizontal and partial vertical perforator" may sound unusual and not bring to mind any familiar images, but we've all encountered the results of such technology. Think about some of your favorite beverages, pharmaceutical products, or personal care items. Do any of them have a "pull tab" where the exterior label is perforated? Chances are, this pull tab was created using a horizontal and partial vertical (HPV) perforator! This seemingly small feature on a container's label is crucial to many manufacturers - especially those concerned with tamper evident solutions. PDC has perfected this perforation machine for such cases.
How Does the Compact Servo HPV Perforator Work?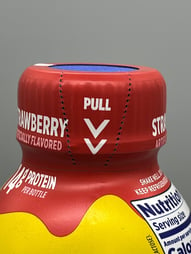 PDC's proprietary servo-driven horizontal perforator is the perfect solution for many types of consumer products. As the product label is passing through the machine, the perforating blades strike a spring-loaded anvil in a reciprocating motion, creating a horizontal perforation with a partial vertical perforation on the label in the area where the label extends up over the cap.
See it in action on our R-100 MWER Shrink Labeler 60bpm
Tamper Evident Perforation Case Studies
Below are examples of PDC perforation technology on products. Our team had great opportunities to customize solutions for several clients whose products needed such a feature
HPV Perforations for Contoured Food Container
We were presented with the challenge to create a label for a large honey company. This company needed precisely oriented sleeve graphics on a uniquely shaped bottle and tamper evident features to comply with strict food regulations. The container sleeve featured facial features that could not be damaged or destroyed when the tamper evident feature was removed. We utilized our Compact Servo HPV Perforator to create a small pull tab at the top of the bottle. This allows consumers to remove the tamper evident feature and access the food product without completely removing the container's shrink sleeve label.
Restricted Perforations for Minimal Label Damage
In the personal care industry, many products require tamper evident features. The challenge with these containers is that the label on the container must remain intact and undamaged. The solution is a horizontal and tall partial vertical perforation. This allows the consumer to pull down the perforation tab to a certain point on the container. The overcap becomes accessible while the remaining container label is undamaged.
Perforations for High Speed Glass Bottle Labeling
On occasion, the labels being applied to a container are not full body shrink sleeves. In this case study, we had to apply a shrink sleeve neckband to a glass bottle for an international spirits company. They needed a tamper evident feature for the bottle but they didn't want to lose the bottom half of the neckband with their iconic graphics. We introduced them to our HPV Perforator and it was the perfect solution. This system allowed us to create a perforation that removes the top half of the neckband, but stops the pull tab before the consumer could tear off the bottom graphics.
With so many potential applications, it's no wonder that professionals across various industries are turning to PDC for their tamper evident needs. Our perforators create precise perforations at high speeds using PDC's proprietary cutting systems. For more information and to see other use cases of this proprietary technology, download our eBook, Perforations in Tamper Evident Bands & Shrink Sleeve Labels.