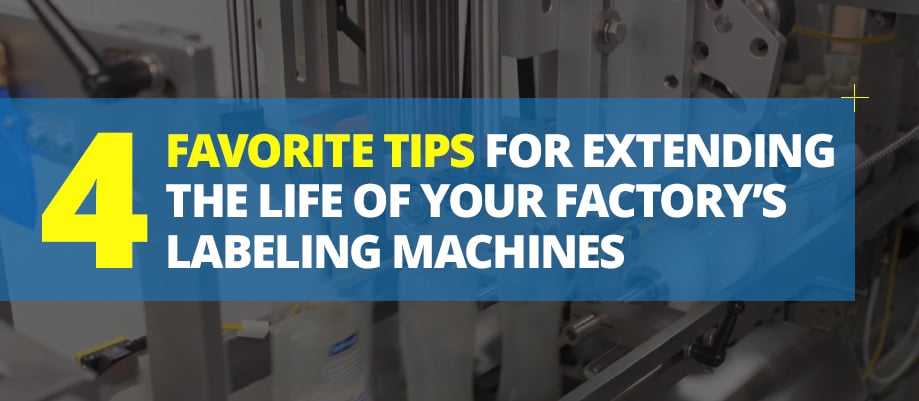 Labeling machines are designed to require the minimum amount of maintenance and repair, but taking necessary precautions during their use and performing regular maintenance checks can ensure that your machine serves your needs for many years. Here are 4 things you can do to help it work longer and harder for you.

1) Replace Worn Out Parts
Preventative maintenance helps maximize uptime and reduce unexpected repair time. A labeling machine makes use of a number of critical components that wear over time, such as rubberized feed rollers and cutting blades. In order for the machine to work, these parts need to be in proper working order. Be sure to replace the parts of the machine that have become worn out and no longer perform their job at their optimum level.

2) Clean and Lubricate
It's important to keep the machine as clean as possible. All surfaces should be periodically cleaned thoroughly. Lubricating can be a tricky business. You don't want the oil to seep onto the final product. Thus, you need to take great care while applying lubricant to the machine to make sure that only the parts that need lubricating get it.
These days, a number of labeling machine options are available that automatically apply lubrication in a controlled fashion, either to machine bearings or cutting blade assemblies. Investing in such a system can help make the machine run optimally, prevent breakdowns and apply the correct amount of lubricant.

3) Perform Regular Checkups
As with any other mechanical device, you need to regularly check your labeling machine to see if it is working well and not suffering from any unseen problems. Make sure to have a trained technician inspect the machine and its inner assemblies. A thorough checkup need not be conducted every week, but it is good policy to do it once every couple of months.

4) Maintenance Records and Problem Resolution
Assign monthly downtime to inspect your machinery thoroughly and keep a ledger or some other kind of record of any past problems you have had with your labeling machine. This will allow you to anticipate any future problems and provide a speedy solution. The record will also serve as a handy referral for other employees as well in case your primary maintenance technician is absent. The record should be as detailed as possible, with possible suggestions for repairing the problem and the contact information of the person who can fix it.
Performing these actions at regular intervals over the course of the use of your labeling machine will prevent unwanted down time and prolong the life of your machine.