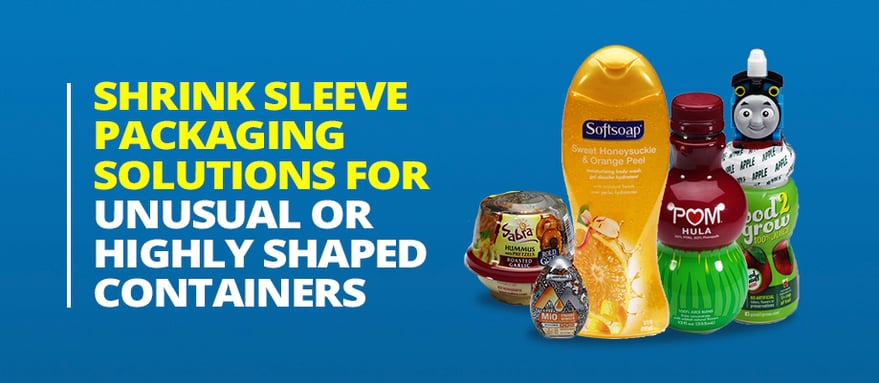 The versatility and flexibility of shrink sleeve packaging makes it a great tool for labeling complex or unusually-shaped products. Shrink sleeves are designed specifically to conform to the shape of a product, allowing for attractive graphics and greater customer appeal. There are a number of things to consider when deciding whether to use shrink sleeves. Once you have chosen shrink sleeving for your package, there are further choices to be made, such as selecting the perfect film type and the ideal shrink tunnel, which will ensure that your oddly shaped product has a crisp, neat final appearance.
Things To Consider Before Diving Into Shrink Sleeve Labeling
If you're wondering if shrink sleeving is the ideal choice for your product packaging, here are some key considerations:
Do you plan to label full or empty containers?
Determining at what point on your production line your product will be labeled is a key part of the process. If your product is going to be labeled after being filled, consider the implications of spillage or condensate, which might form on cold products. This may require air knives to dry the bottles prior to labeling. These conditions can be easily overcome.
Will your product be upright or inverted?
Your product's orientation will determine the type of product handling required. Will you be using full-body or partial sleeving? Do you need tamper evidence?
Is your product symmetrical or asymmetrical?
Non-round containers require orientation of both the container and the sleeve graphics, so the artwork falls correctly on all the "panels" of the package. Machine features of the labeler can address both these areas.
How does your product or container react to heat?
Shrink sleeving technology uses moderate to high temperatures to shrink the label onto your product, so the way it reacts to heat is a key component to deciding if shrink packaging is right for your product. For example, empty PET bottles deform at certain temperatures, requiring advance testing and very precise temperature controls. Full containers are much less likely to deform.
Selecting the Right Film for Shrink Sleeving Unusually Shaped Products
If you decide that shrink sleeving is right for your product, work with specialists to select a film on which the label is printed. Calculating the best-suited material is crucial to success. If your product is unusually shaped, this is especially important because achieving an unblemished appearance of the shrink sleeve requires precise coordination of the sleeve materials, label sizing and size tolerance of the container itself. All containers have tolerances, not only in body size, but in height also. All of these factors must be taken into account in order to optimize package appearance.
There are four types of film typically used for shrink sleeves - polyvinyl chloride (PVC), polyester (PET), glycol modified polyester (PETG), and oriented polystyrene (OPS) - and each has unique properties, advantages and disadvantages. PVC, for example, works well for the tamper evident banding of products and labeling nonrecyclable containers. Others, like PET film, are well suited for large diameter bottles with small diameter necks. OPS has very little vertical shrink, preferable for containers with very little bottom radius. Work with your machine, shrink tunnel and material vendors to ensure that label specifications are properly developed.
Selecting The Ideal Shrink Tunnel
Shrink tunnels — which use heat to shrink the film around the product — are another significant selection when shrink sleeving your product. To select the ideal tunnel for your project, consider the type of film, conveyor speed, fill temperature, shape of the product, whether the container is full or empty, and the temperature of the plant. Work with your tunnel vendor to take these factors into consideration.
When it comes to tunnel types, hot air shrink tunnels are less expensive and limited as to what they can shrink. Hot air tunnels are fine for shrinking tamper evident shrink bands. Steam shrink tunnels are more versatile, more forgiving and are often used for shrink labeling. They require a steam source to function and operate at lower temperatures too, making them ideal for empty plastic bottles to avoid deformation.
Prototyping Your Package
Each shrink sleeving application must be considered carefully. requiring its best-suited film substrate, and correct shrink tunnel selection. While shrink sleeving is ideal for complex shapes, making sure it works under production conditions is critical. By testing the shrink sleeve labels on the actual production grade shrink tunnels, you will make sure the package components and graphics work as well as intended. PDC encourages prototyping your shrink sleeve labeling project and offers it free in our Shrink Lab.
Shrink sleeving is a terrific option for labeling a variety of sizes and shapes of packages. If your product has a complex shape, there are significant considerations to ensure a quality package design, from the film substrate to the shrink tunnel you select. With well thought-out planning, and recommendations from shrink sleeving experts, you can make certain that your product will outshine the competition on store shelves.
At PDC we have over 50 years of shrink sleeve packaging experience providing high-quality application machinery and shrink tunnels for even the most challenging sleeving projects. We use a detailed, proven process in our Shrink Lab to determine label specifications, ensuring the results you and your customers expect. If you would like to learn more, please contact us today at (203) 853-1516 or sales@pdc-corp.com.