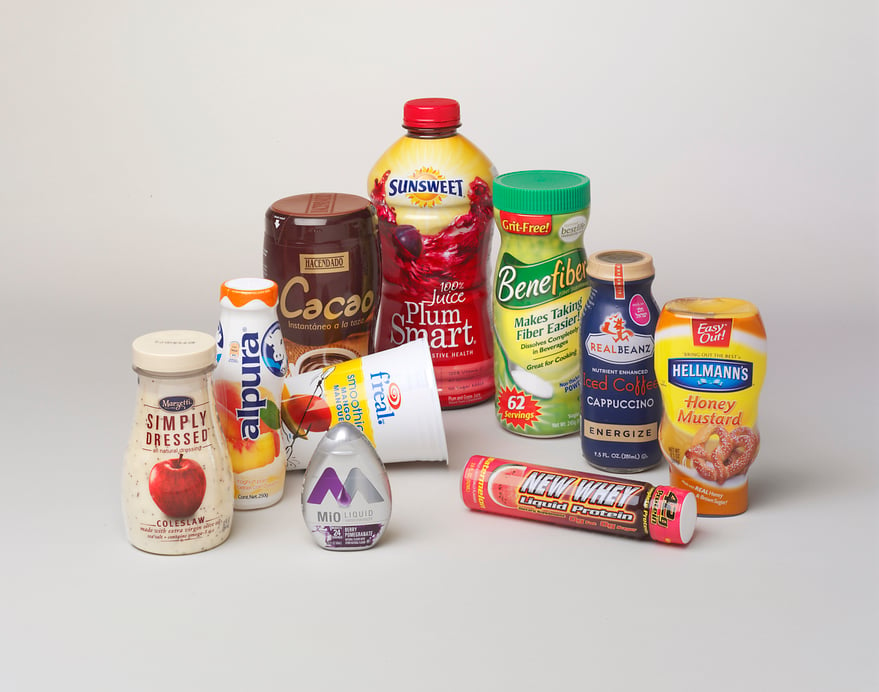 Graphic package designers are turning to shrink sleeves to produce eye catching, contour forming, tip-to-toe coverage for their consumer product packages. While beautiful design on packaging is critical to brand awareness and shelf appeal, producing it is as much a science as it is an art.
You'll need to make sure you're using the correct type of bottle, grade of shrink film, and heat shrink tunnel for the best results. The world of shrink sleeve labeling can be confusing. Read below for a few key tips to ensure your labeling design comes out as you envisioned it.
Container Shape and Material Considerations
The shape and material of your container is very important. If you want a full body sleeve, choosing a container with a radius on the bottom for the film to "lock down to" is ideal. A container with a straight walled bottom prevents the shrink film from conforming to a radius so the film will be inclined to pull up from the bottom of the container.
Container and Sleeve Tolerances
There are many tolerances that must be taken into consideration, like the tolerance of the container. For example, glass can vary in size more than most plastics. The tolerance of the sleeve when seamed during converting as well as the print to fold tolerance on the graphics, which impacts orientation of the sleeve to non-round bottles.
Create a design that will help to hide any inconsistencies in tolerances. For instance, don't pick a black bottle and white film, any pull up on the bottom will be obvious. Avoid design elements that may be visually detectable if there is a shift due to tolerances in film, container, printing, or application. Use of curving design is preferable to strict vertical and horizontal lines.
You should take into account all of the above tolerances and plan for the worst case. Your selected label applicator and shrink tunnel supplier can work with you on this.
Choosing the Right Film
Understanding a little about the film used to create shrink sleeves will help produce a great end product.
The four types of shrink sleeving film used on packaging include PVC, PET/PETG, OPS, and PLA. Each has unique shrink characteristics as well as advantages and disadvantages. Some films are well suited for packaging that will have tamper evident bands, such as PVC. Others, such as OPS, and PETG-LV ​​work well with full sleeve applications that have little or no radius at the bottom.
Knowing the characteristics of the various films will allow you to make the right film choice for your product and budget, with no worries or surprises. Selecting the correct film will be most cost effective and avoids cost overruns. It's best to work with the shrink sleeve application machine manufacturer that can guide you and one that offers a testing process, so you avoid any oversights and select the correct film from the start.
Shrink Tunnels
A critical part of the shrink sleeve labeling process is the shrinking of the film onto the container. This is done via a shrink tunnel which mounts over the production line conveyor. Your container could encounter a wide range of temperatures depending on the type of shrink tunnel used. In steam tunnels for example, temperatures generally run between 175F and 210F. Electric tunnels can reach temperatures of 200F up to 600F near the heat elements. Both types of tunnels are capable of deforming plastic containers.
Typically bottle deformation occurs with empty plastic containers. Filled containers, on the other hand, act as a heat sink, that transferring the heat to the substance inside the container, and so can therefore withstand higher temperatures without deforming.
If your container is plastic or it will be labeled while empty, testing it in the actual shrink tunnel to be used during production will let you know if the bottle will deform during the shrinking process.
Prototyping Your Package Design
This brings us to the importance of testing your product. It is best to discuss your planned design with film and heat tunnel manufacturers before moving too far along with a shrink sleeve labeling project. During the testing phase, a prototype of the proposed film on the actual container is run at production speeds in a hot air or steam tunnel.
If production labels are not available, you can test with grid printed film first in the recommended shrink tunnel. The grid will indicate how the film lays down around any contours and whether it is being pulled in a particular direction. You can then analyze the shrunk sample with grid film and take those factors into account when laying out the artwork for the printed shrink label in order to avoid any distortion issues on the final product.
Shrink sleeves allow the decoration of containers in ways that were impossible in the past. Knowing what to expect from the shrink sleeve labeling process will go a long way to producing an eye-catching graphic label that knocks it out of the park from the get go.
We're a global leader in shrink sleeve labeling technology with more than 50 years in the packaging industry. We have years of expertise in helping customers choose the proper shrink film and shrink tunnels for a variety of product and packaging types. Our Shrink Lab is available to test your product to ensure it will be attractive to customers and look terrific! Contact us today at (203) 853-1516 or sales@pdc-corp.com.