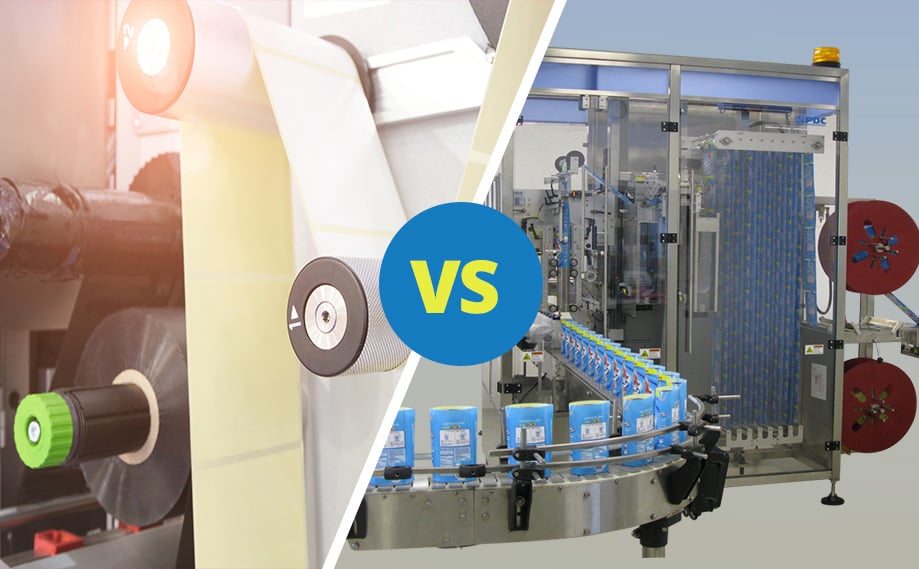 Sleeve labels continue to take market share around the world from the "traditional" labeling technologies such as pressure sensitive and traditional glue-applied labels. A pressure sensitive label, or self-adhesive label, can be printed on, laminated, die-cut, and then peeled off and applied to a product. A shrink sleeve label is printed on a flexible film that reduces in size through the application of heat conforming the label to the shape of the product's container.
While pressure sensitive labels are still the world's most used label technology, there are a number of reasons why shrink sleeve labels are growing in popularity. Below we take a look at a few advantages of shrink sleeve labels versus pressure sensitive labels.
Branding
An important way to promote a product is to catch the attention of consumers on the shelf. Pressure sensitive labels can be customized for different product shapes, however, they are limited in terms of coverage of the container. Comparatively, shrink sleeves can wrap around an entire container for a full 360-degrees worth of area on which to decorate. This allows a company to showcase their brand with full-color graphics and plenty of messaging.
Shrink sleeving is also ideal for companies looking to do special promotions around holidays or other events with short-term graphics, or by offering products with interesting containers or eye-catching shapes.
Flexibility and Strength
We've already touched on the flexibility of shrink sleeve labels, which can fit many differently shaped containers where traditionally made product labels can't. In addition, film labels are generally printed in reverse on the inside on transparent shrink film, protected by clear film. This makes the label and its graphics resistant to damage from handling during transit. Shrink sleeves are also good for products that may be used in humid or moist environments, such as showers and refrigerators. Another bonus, full-body shrink sleeve labels can protect a product from UV light.
Security Through Tamper-Evident Seals
Since the 1980's and the tragedy surrounding tampered Tylenol bottles, manufacturers have worked hard at securing their products to assure the public that they are safe. For many pharmaceutical products, tamper evident seals are mandatory due to FDA safety guidelines. Shrink sleeve labels offer a perfect solution. Shrink sleeves can easily be extended up the neck of a container, creating a tamper evident seal. This ensures that the product is protected, has not been altered in any way and is safe to use - an important added value to the consumer.
Sustainability and the Environment
There are several ways in which shrink sleeves are more desirable than pressure sensitive labels when it comes to being more green. For one, pressure sensitive labels come on a paper backing material. Once the labels are peeled off, that paper creates waste. Shrink sleeves film is often made of biodegradable and environmentally-friendly materials. In addition, because shrink sleeve labeling uses heat to adhere the label to the product instead of adhesive, it can be easily removed for easy recycling of the container.
Cost-Effectiveness
In many cases, because a shrink sleeve label can cover a wide area of the container, it can perform the function of multiple labels and seals. This can be more cost-effective by reducing the steps involved in production, saving time and money.
From household supplies, cosmetics, and food and beverages, shrink sleeve labels are a superior choice for product labeling. Custom manufactured and shrinking to conform to even the oddest shaped containers, shrink sleeve labeling provides a 360-degree branding area and easy opportunities for tamper-evident seals. The result: products that look great from top-to-bottom. PDC has been providing U.S.-made shrink sleeving and tamper evident machinery and shrink tunnels for over 50 years, serving a wide range of global industries from food and beverage to pharmaceuticals and household products. Contact us to see how we can help you bring your products to life.
---