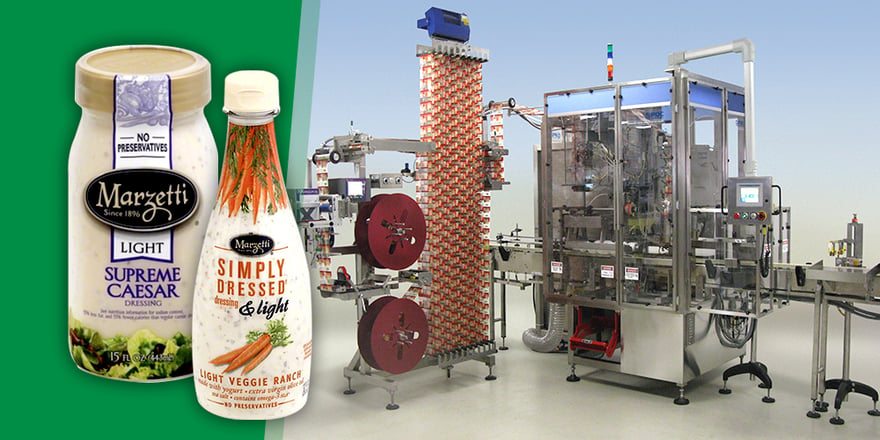 As a leader in the packaging industry for over 50 years providing shrink sleeving and tamper evident banding machinery and shrink tunnels, there are some questions that PDC gets asked all the time. What are the most frequently asked questions posed to us about shrink sleeve labeling and tamper evident banding? Read on…
To What Types of Containers Can a Shrink Sleeve Be Applied?
Shrink sleeve labels are versatile and flexible. They can be applied to just about any size or shape of rigid container, such as bottles, jars or cans. Package materials can be plastic, glass, metal or even paperboard. The process of shrinking a label over a package gives these labels the ability to conform to the shape of almost any product.
Keep in mind that non-round, asymmetrical containers or ones with complex shapes often require proper orientation of both the container and the sleeve graphics. This requires detailed planning of the label art and the way the sleeve is converted (formed into a sleeve) and creased, so the artwork falls correctly on all the "panels" of the package.
The kind of film you choose is especially important because achieving a flawless appearance of the shrink sleeve requires precise coordination of the sleeve materials, label sizing, and size tolerance of the container itself.
Can You Apply Shrink Sleeve Labels to Either Empty or Filled Products?
Determining at what point on your production line your product will be labeled is an important decision. Bottles can be labeled either empty or full. If your product is going to be labeled after being filled, consider the implications of spillage or condensate, which might form on cold products. Bottles must be free of product and clean when labeled. In the case of condensation, air knives may be required to dry the bottles before labeling.
Another important consideration is the way a container reacts to the heat to which it is exposed during the shrink process. Shrink sleeving technology uses moderate to high temperatures to shrink the label onto your product. Empty plastic bottles and other containers deform at certain temperatures, requiring testing in advance and very precise temperature controls. Full containers are much less likely to deform.
What Is the Cost Difference Between a Shrink Sleeve and Wrap Around Label or Pressure Sensitive Label? How About the Benefits?
Shrink sleeve labeling tends to be a more expensive way to decorate your package than wraparound or pressure sensitive labels. However, the benefits of shrink sleeves are many. For one, shrink sleeves can provide a dramatically increased "billboard" space on a package, as it can be fully printed from head to toe. This allows for more eye-catching graphics, plus more information for the consumer displayed on the package.
Shrink sleeve labels can also decorate many differently shaped containers which traditional labels can't. Pressure sensitive labels require a flat surface on which to adhere in order to avoid wrinkling. Shrink sleeves easily conform to compound curves and varying dimensions. Shrink sleeves are also good for products that may be used in humid or moist environments, such as showers and refrigerators.
If your product requires tamper evidence, shrink sleeves can easily be extended up over the cap of a container. The sleeve is perforated where the cap meets the neck, creating a tamper evident seal which is removed when the package is opened. This ensures that the product is protected, has not been altered in any way and is safe to use - an important added value to the consumer. And it is visible at the point of purchase, unlike inner seals.
What's the Difference Between Steam and Hot Air Shrink Tunnels?
Steam shrink tunnels are highly versatile in what they can shrink. They are very forgiving and ideal for product lines where high quality and distortion-free graphics are most important. For example, they are great for full sleeve label applications on contoured containers.
Steam tunnels are also optimal for use on empty bottles to avoid deformation since they operate at lower temperatures (180-200ºF) than dry heat shrink tunnels (200º-600ºF). They are also used with containers under pressure, such as aerosols, or when low flash point or flammability is a factor, again due to lower operational temperatures.
Hot air tunnels are ideal for neckbanding tamper evidence, and shrink sealing full body sleeves on small containers.
An important consideration with hot air tunnels is that conveyors, conveyor belts, and wear strips must be made of materials appropriate for the temperatures generated, which can range from 200ºF in the tunnel to 600ºF (measured at the elements). Conveyors passing through steam tunnels must be constructed to operate with moisture and condensate.
Are There Biodegradable Shrink Sleeve Labels? How About Recycling?
PLA (Polylactic acid) shrink sleeve film is made of fully biodegradable and environmentally-friendly materials. PLA is a corn-based film, not petroleum based, so it comes from a renewable resource and is ASTM Certified Compostable.
In general, because shrink sleeve labeling uses heat to adhere the label to the product instead of adhesive, it can be easily removed for recycling the container. The addition of removable sleeves with vertical perforations allows the consumer to remove the sleeve prior to recycling the container.
Conclusion
There are many considerations when embarking on a new labeling or tamper evident banding project. PDC has years of expertise and understanding of film chemistry, performance, as well as the printing and converting processes. We work closely with our customers to make certain container designs are shrink friendly and compatible with the line speeds they require. We prototype packages under real conditions to make sure your package can be manufactured easily.
We are fully vertically integrated! From engineering to machine shop to fabrication, PDC maintains full control of every aspect of each machine and tunnel system to make sure your package looks terrific time after time, year after year. Give us a call today at 203.853.1516 with any questions you may have.